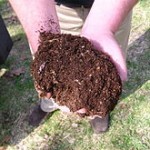 As we enter into the fall and winter season, we will not have bagged compost available but will still have bulk available by arrangement.  When spring comes around we will have bagged compost ready for your gardens again.
We receive food waste from a local college's dining halls year round and combine it with horse manure.   It's bountiful with red worms that digest the organics in the mix and break it down . We have the compost for sale, self-serve in the spring, at the home farm for $6. a bag ( about 35-40 pounds). This can be found up near our house and the farm store.  (Up the drive way at 71 Chesterfield Rd).
We can also load your truck or wagon, by appointment, 527-6193, with our loader, which gives you about a yard per tractor bucket for $40.